Glass BeaD Game | emaG
Game Four | Official Agent's Manual | Men in Black



You'll conform to the identity we give you.
You will have no identifying marks of any kind.
You will not stand out in any way.
Your entire image is crafted to leave no lasting memory.
You're a rumor, recognizable only as déja-vu.
You don't exist: you were never born.
Anonymity is your name.
Silence is your native tongue.
You are no longer part of the system.
We're above the system.
Over it.
Beyond it.
WE ARE THE MEN IN BLACK.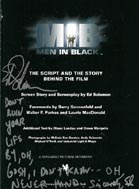 © 2002
MxM Group all rights reserved
mjm@futr2000.com